Ender-3 V2 FDM 3D PrinterFeatures
Creality Ender-3 V2 3dprinter has the same delicate appearance as the DIY 3d printer kit Creality Ender-3. 
And integrated all-metalbody inherited from its predecessor Creality Ender-3 3d printer, firm andstable. 
With Integrated structureand modular design, the power supply is concealed in the machine, it's moreconvenient and safer for you to operate, it's so kind to design, right?
Creality Ender-3 V2 3dprinter equipped with the Carborundum Glass Platform as always. 
The platform enables thehotbed heat up quicker and prints adhere better without the warping. So youwill see the ultra smoothness even on the first layer of the model.
Creality Ender-3 V2 3dprinter is equipped with a new self-developed silent motherboard.
It has a strongeranti-interference, faster and more stable motion performance, silent printing,and low decibel operation.
Therefore, when you printthe model at night, please don't worry, it will not disturb your rest.
So that not only you canhave a good night, but also you can print the exquisite model.
Creality adds a rotary the knob on the extruder to operate conveniently.
And what's more, we needto press the extrusion clamp to feed-in, sometimes,
 the extrusion clamp is easyto be broken, so the rotary knob is a very friendly design.
Creality Ender-3 V2 DIY3d printer also adds the toolbox under the hotbed for better organized.
Because many people givefeedback about the upgrade of the printer. They said that the screws or othersmall tools are often lost. 
And the toolbox will bevery helpful for people.
So if you have more goodideas about the printer, you can send the Creality email, maybe in the next newprinter, you will find them.
Creality Ender-3 V2 3dprinter changes the previous screen into a 4.3inch HD color screen.
And upgrades the userexperience with the newly designed operation UI system. It's simple and quickto operate.
Also, this color screencan remove easily to repair, which saves a lot of time and energy.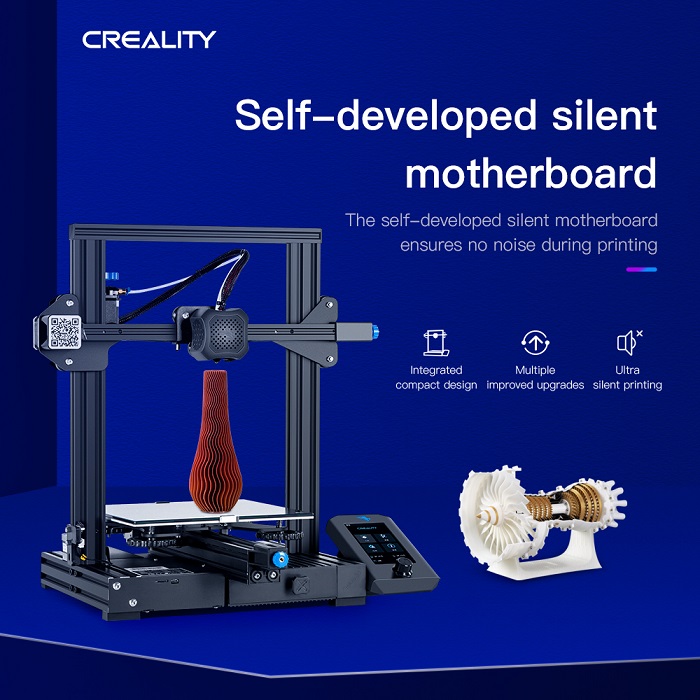 Technical Specifications
Ender-3 V2 FDM 3D Printer Properties
Modeling Technology: FDM(FusedDeposition Modeling)
Printing Size: 220x220x250mm
Filament: PLA/TPU/PETG
Working Mode: Online or SD card offline
Supported OS: MAC/WindowsXP/7/8/10
Filament Diameter: 1.75mm
Slicing Software: Simplify3d/Cura
Ender-3 V2 FDM 3D Printer Hardware
Machine Size: 475x470x620mm
Product Weight: 7.8KG
Package Weight: 9.6KG
Power Supply: Input AC 115V/230V; Output DC 24V 270W
Ender-3 V2 FDM 3D Printer Extruder Hardware
Layer Thickness: 0.1-0.4mm
Print Precision: ±0.1mm
Hotbed Temperature: ≤100°